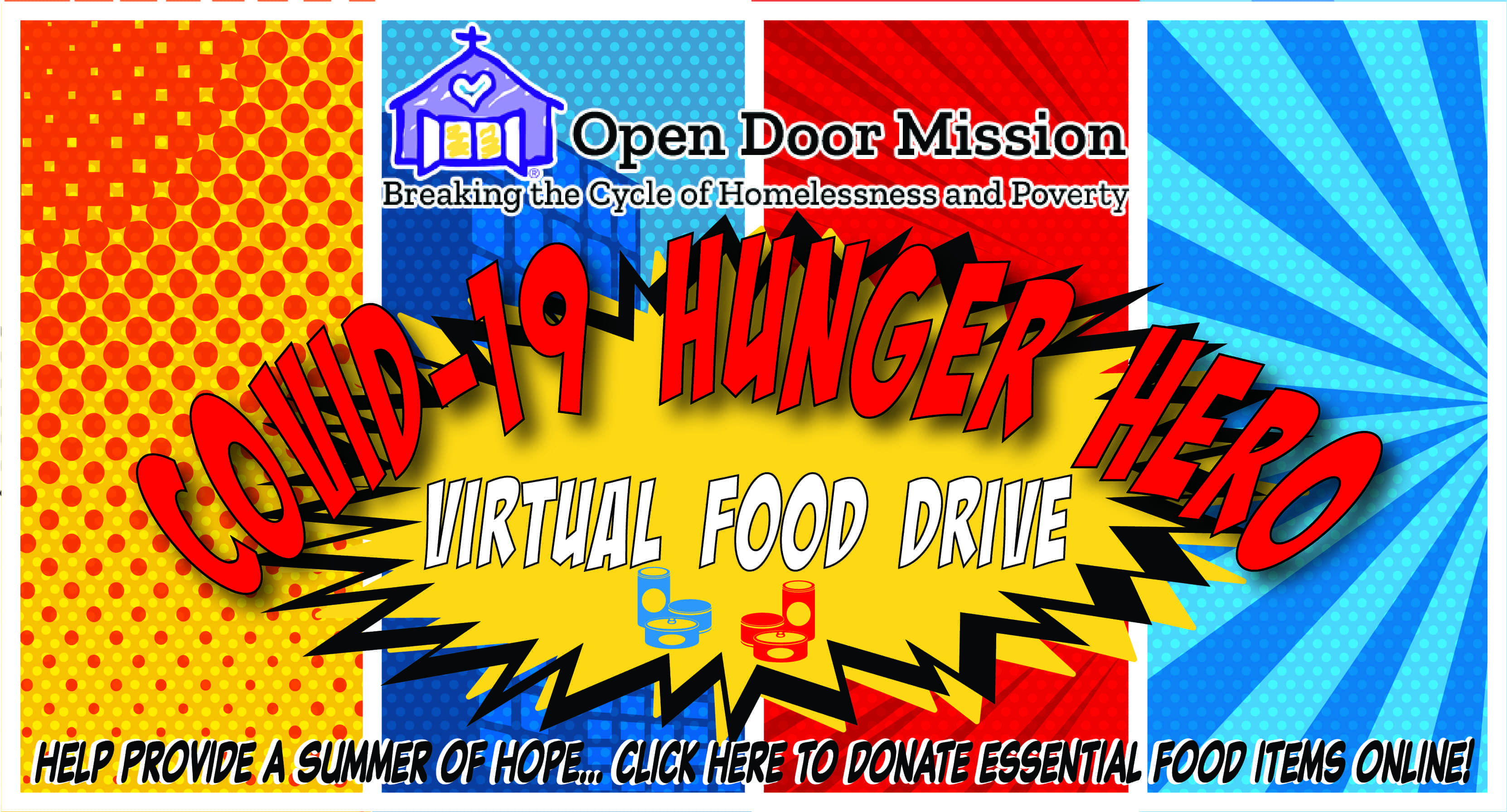 Because of the COVID-19 pandemic, Open Door Mission anticipates more people than ever before will need our help.
You can now help feed the hungry and homeless from the comfort of your own home by shopping online from our WishList!  Items will be shipped directly to us to help those who need it most.
Seasons change, but hunger remains.  Be a COVID-19 Hunger Hero today!

Amazon Wish List
Walmart Wish List

By putting together the COVID-19 Hunger Hero Virtual Food Drive, we have made it extremely easy for you to help the Open Door Mission break the cycle of homelessness and poverty, just by clicking "add to cart" and sending these items directly to the Open Door Mission.
That's it!
Provide a Summer of Hope…Be a COVID-19 Hunger Hero.
Urgent food needs:  canned fruit, veggies, canned meat, Hamburger Helper, mac n cheese and peanut butter, but the lists online will be updated as needed all summer.
You do not need to drive anywhere to drop off donations. No more wondering if what you are buying is what the Open Door Mission needs the most at any specific time, they will continue to update the wish lists as needed.
If you want to help, but don't want to shop for individual items online, you can always donate directly to the button below:

Every $2.15 you give today provides a meal and so much more – it provides a safe, clean, environment where they can safely find hope for new life again.
Thank you from AM 590 ESPN Radio and The Open Door Mission!

Open Door Mission is a Gospel Rescue Mission that meets the needs of individuals and families while inspiring HOPE for lasting change that breaks the cycle of homelessness and poverty. Daily, Open Door Mission offers 917 safe shelter beds to those experiencing homelessness, serves more than 4,747 meals to feed the hungry and empowers more than 1,000 people living in poverty to remain in their own homes through homeless prevention resources.