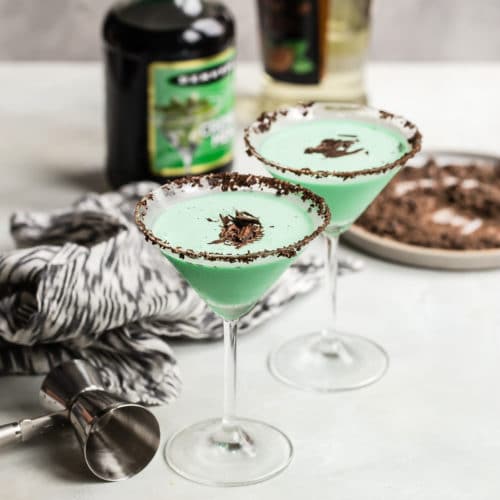 By: Nick Handley
Happy Holidays! This has been such a trying year for so many and during the holidays you always want to remember the high points and forget the low, but the problem is there have been many situations we'd all love to hit the delete button on. Let's end the year with a bang! I want to help you do that with some of my favorite holiday drinks. Before I give you a few recipes let me say stocking up from Hy-Vee is going to be the best play especially on "Thirsty Thursdays."  You can save  money on gas with your beer and spirits purchase so definitely be looking out for those opportunities. All of the ingredients for these drinks can be found at your local Hy-Vee. So here we go!
#1 Grasshoppers
4 cups of vanilla Ice Cream
1 1/2 ounces green crème de menthe
1 1/2 ounces crème de cocoa
In a blender combine the vanilla ice cream, crème de menthe, and crème de cocoa.
Pour into two chilled glasses and garnish with chocolate shavings or thin mint cookies.
#2 Peanut Butter Hot Cocoa
Screwball Whiskey
Hot Cocoa Mix
1. This is self explanatory. Basically make hot cocoa however you desire and add a shot of Screwball Whiskey. You'll tank me later.
#3 Rumchata Hot Cocoa
1/4 c. granulated sugar
2 tbsp. cocoa powder
1 tsp.
pure vanilla extract
6 oz.
chocolate chips (or chopped bittersweet chocolate)
Whipped cream, for serving
Cinnamon sugar, for garnish
Cinnamon stick, for garnish
Bring milk to a simmer in small saucepan over medium heat. Whisk in sugar and cocoa powder and stir until no lumps remain. Stir in chocolate chips and vanilla and cook, stirring occasionally, until the chocolate is completely melted. Stir in Rumchata, then turn off heat.
Pour caramel into a small dish. Dip cups in the caramel to coat the rim. Pour hot chocolate into each glass, then top with whipped cream, a sprinkle of cinnamon sugar, more caramel, and a cinnamon stick.
My Favorite Local Holiday Craft Beers (some only available at brewery):
Nebraska Brewing (Omaha): Red Sled
Kross Strain Brewing (Omaha): Mele Kalikimaka
Infusion Brewing (Omaha): Ginger Bread Vanilla Bean Blonde
Kinkaider Brewing (Broken Bow, NE): Snow Beast
Infusion Brewing (Omaha): Dean's Holiday Spiced Ale
MERRY CHRISTMAS AND HAPPY NEW YEAR!!!