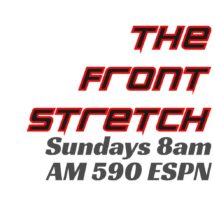 The Front Stretch
The Front Stretch is the Metro's only all racing talk show featuring long time race fan and local dirt track announcer Dan Taylor with former Camping world Truck series official Dirk Huston.
Every Sunday morning at 8am, Dan and Dirk cover the latest news in racing from NASCAR to IMCA. You can expect interviews from track owners, series directors, drivers and industry officials, anyone who can keep fans up to date with the latest news.
If you're a fantasy fan, make sure to join one of their contest by emailing the guys at FrontStretchRadio@gmail.com. You could win great prizes from NASCAR and dirt track drivers, tickets to races or even the life changing experience of being a Crewman For a Day with a NASCAR team.